Each month, a researcher shares their experiences of using a particular archive. The overall aim of this section is to create a database of the different archives available to those working on French and Francophone studies that will be of help particularly to students just starting out in research.
Ben Goff is a PhD Candidate at Florida State University. Here he talks about using the archives at the Institute on Napoleon and the French Revolution at Florida State University
If you ask a historian where the premier research centers for Revolutionary and Napoleonic France are located in the United States, you would probably get answers like the Newberry Library in Chicago, or the Huntington Library in Los Angeles. You would not likely hear about Florida State University in remote Tallahassee, Florida. Florida State has quietly been a hub for Revolutionary and Napoleonic research since the 1960s. In 1990, the University and the History Department opened the Institute on Napoleon and the French Revolution. During this stretch, the Institute has amassed an extensive collection of over 22,000 rare books, manuscripts, periodicals, letters, and more. These holdings also extend beyond France to include items from Britain, Germany, Spain, Austria, and Portugal. You can find the collection housed at the Special Collections Research Center in Strozier Library on campus.
As a student at Florida State, I have used the collection numerous times. However, my most recent experience came during the pandemic, when I needed to access the Journal Militaire, an official periodical of the French military that compiled and published all relevant laws and ordonnances. Special collections has a complete set of volumes for the years 1790 to 1842. However, with the pandemic still raging, access to the archive was closed, and I despaired when I could find no copies of the journal online. Even Gallica only had a single volume accessible.
Luckily, my point of contact Krystal Thomas and the Digital Library Center staff were extremely helpful and agreed to undertake the arduous task of digitizing these volumes. This stands as shining evidence to the quality of the library staff and the dedication they have toward the students and researchers who use their collections. Digitizing dozens of volumes, each containing hundreds of pages, is tedious work and often hidden from public view. My dissertation will be much improved thanks to their help. I cannot thank them enough.
While the collection skews toward military history, it nevertheless contains enough breadth to satisfy a wide variety of research interests. For example, while skimming through the holdings, I often notice a wealth of material about the Napoleonic court- an understudied topic in this period. Such items as yearly court almanacs containing biographical details of various dignitaries and books on courtly etiquette make frequent appearances in the collection's inventories. Of course, if you just want to see impressive artefacts, those are present too, with the crown jewel being an original copy of Napoleon's death mask.  
Traveling to Tallahassee can be difficult. The city does have a small regional airport, but direct flights from many major cities do not exist. Travelers will likely have to catch a connecting flight in Atlanta, Dallas, or Charlotte. Travel by car is also time consuming with Jacksonville being two hours away and Atlanta four hours. Once you arrive, you will face one last obstacle: parking on campus. As a large state university, campus is usually packed with students. If you visit on a weekday during the spring or fall semesters be sure to arrive before 9 AM to secure a spot at one of the parking garages. Also, don't forget to grab a visitor parking pass. After that, you should experience smooth sailing.
As mentioned, the collections are located in Strozier Library on Landis Green in the heart of campus. There is a quiet and well-furnished reading room tucked away on the first floor. If you are hungry or need a break, there are plenty of close food and drink options. Nearby is the Sweet Shop, a local café where you can get all sorts of drinks for a couple of bucks and food for under ten. Up Tennessee Street is Momo's Pizza where the slices are literally as big as your head. Other trendy neighborhoods further from campus include Railroad Square and Midtown where you can find numerous cafes and good restaurants.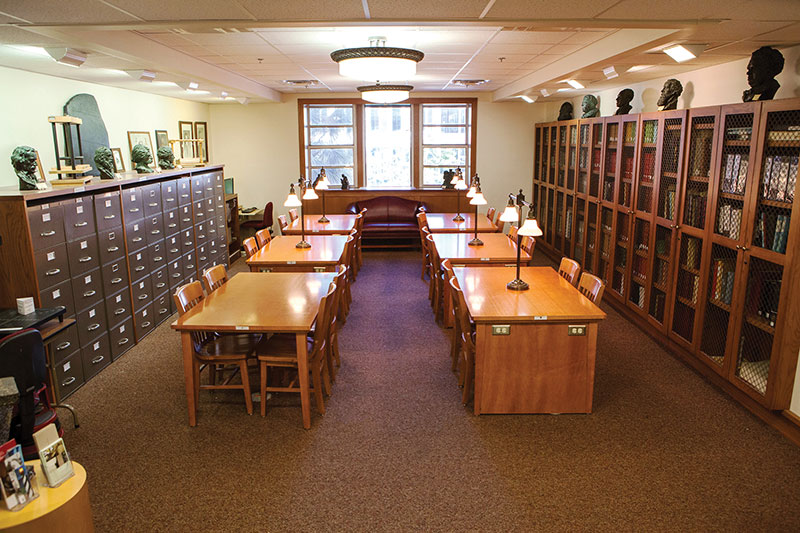 If you would like to learn more about the holding or schedule a visit you can email Dr. Rafe Blaufarb who is the Director of the Institute on Napoleon and the French Revolution at rblaufarb@fsu.edu. Or, if you want to reach Special Collections directly, you can do so by emailing lib-specialcollections@fsu.edu.
Ben Goff is a PhD Candidate at Florida State University. He studies French military medicine during the long eighteenth century. More specifically, he is interested how the medical marketplace, politics and warfare shaped the administrative and financial structures of military hospitals.
Thank you very much for this, Ben!