In this month's Feature Archive post, Charlotte Faucher (QMUL) talks us through the Centre des Archives Diplomatiques de Nantes.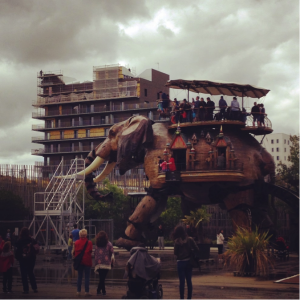 The elephant on the Ile de Nantes
During my first visit to Nantes I was hoping to find some answers; partly about whether the principal city of the Loire-Atlantique belongs to Brittany (heated topic of debate there: if you can get a Nantais started on this, you will learn a lot about regionalism), but mostly about French cultural diplomacy in early-twentieth London.
One has to walk away from Nantes city centre and the Ile de Nantes (do not miss the famous elephant and other Voyage de Nantes fun whilst you are there) to find the Centre des Archives Diplomatiques de Nantes (CADN) located at 17 rue du Casterneau, in front of a primary school.
The CADN is but one branch of the Ministère des Affaires Etrangères archives, the other being at La Courneuve. The CADN holds archives of French diplomatic consular services, former protectorates, and mandates. The full catalogue is available in the reading room but the staff will happily answer any questions you may have on the collections before you visit (archives.cadn@diplomatie.gouv.fr).
Once you get to the archives, you will have to show your ID and bag for verification at the gate. Inside the building, you will need to register and a standard procedure applies to access a bright and welcoming reading room (bags and coats must be stored in lockers, along with pen, water etc). You will be able to read the paper catalogues and order your documents on the computers which will also store your reading history. This is accessible both at the CADN and at La Courneuve and came to be very handy when I needed to double check references of the items I had read. The process of ordering documents was both smooth and quick in my experience. I have been on several research trips to Nantes, in August-September and in the middle of winter and the room has always been rather quiet, with only a few researchers present. Many were graduate students who had come from abroad, as I learnt during the lunch breaks that we shared in the small lounge that is open to users. On the topic of food, there are plenty of cafés and bakeries in Nantes, but none are next to the archives. One option is to walk to the nearby Leader Price (unless you are happy with what the couple of vending machines in the CADN's common areas can offer you).
I warmly recommend researchers to try and meet with the head archivist Anne-Sophie Cras during their visits to the CADN. She has an impressive knowledge of the collection and will advise you on folders which may be of interest to you, including some of those which are stored at the Archives Diplomatiques in La Courneuve.
A very friendly "cantine" on the Ile de Nantes with a tasty single menu (poulet-frites for main, with seasonal starter and pudding).
Thanks very much for your thoughts Charlotte!