Denaturalized. How Thousands Lost Their Citizenship and Lives in Vichy France, written by Claire Zalc and published in France in 2017, is just released by Belknap Press. Translated into English by Catherine Porter.
"Some 15,000 newly naturalized people were stripped of their French citizenship by the Vichy administration during the Nazi occupation of France; many of
the Jews among them were then deported to their deaths. Here, Claire Zalc ingeniously unravels the mechanism of 'denaturalization' and gives us vivid portraits of both perpetrators and victims."
—Robert O. Paxton, author of The Anatomy of Fascism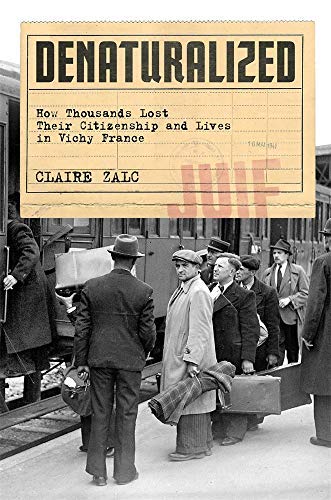 Thousands of naturalized French men and women had their citizen- ship revoked by the Vichy government during the Second World War. Once denaturalized, these men and women, mostly Jews who were later sent to concentration camps, ceased being French on official re- cords and walked off the pages of history. As a result, we have for de- cades severely underestimated the number of French Jews murdered by Nazis during the Holocaust. In Denaturalized, Claire Zalc unearths this tragic record and rewrites World War II history.
At its core, this is a detective story. How do we trace a citizen made alien by the law? How do we solve a murder when the body has vanished? Faced with the absence of straightforward evidence, Zalc turned to the original naturalization papers in order to uncover how denaturalization later occurred. She discovered that, in many cases, the very officials who granted citizenship to foreigners before 1940 were the ones who retracted it under Vichy rule.
The idea of citizenship has always existed alongside the threat of its revocation, and this is especially true for those who are naturalized citizens of a modern state. At a time when the status of millions of naturalized citizens in the United States and around the world is under greater scrutiny, Denaturalized turns our attention to the precarious- ness of the naturalized experience—the darkness that can befall those who suddenly find themselves legally cast out.
Claire Zalc, a prizewinning historian, is Professor at École des hautes études en sciences sociales, Research Director at the Centre national de la recherche scientifique, and Director of the Institute of Modern and Contemporary History at the École normale supérieure.