Each month, a researcher shares their experiences of using a particular archive. The overall aim of this section is to create a database of the different archives available to those working on French and Francophone studies that will be of help particularly to students just starting out in research.
Blanche Plaquevent is a PhD student in history at the University of Bristol. She researches the history of the concept of sexual revolution in France between 1945 and 1969. During the course of her archival research, she had the opportunity to visit a private archival centre, the IMEC, about which she tells us here.
During the first year of my PhD, I visited the IMEC in Saint-Germain-la-Blanche-Herbe. IMEC stands for Institut Mémoires de l'édition contemporaine and it is situated in Lower Normandy, near Caen. The IMEC is a private archival centre which collects documents related to important publishing houses, journals and intellectuals and artists. It is located on the northern outskirts of Caen, in a former abbey nestled among fields of grazing cows. Most people travel to the Abbaye d'Ardenne from Paris (St-Lazare station) by an early train and get off in Caen train station. There, if you have organised it in advance with the accommodation office at the IMEC, a van will transfer you to the Ardenne Abbey for 5€. This is easier than taking a local bus. Arriving from the city of Caen from the main road, you can see the beautiful church, sticking out of high stone walls. When entering the high walls, you discover a large and well-preserved abbey, with many different buildings, beautiful gardens and spacious courtyards.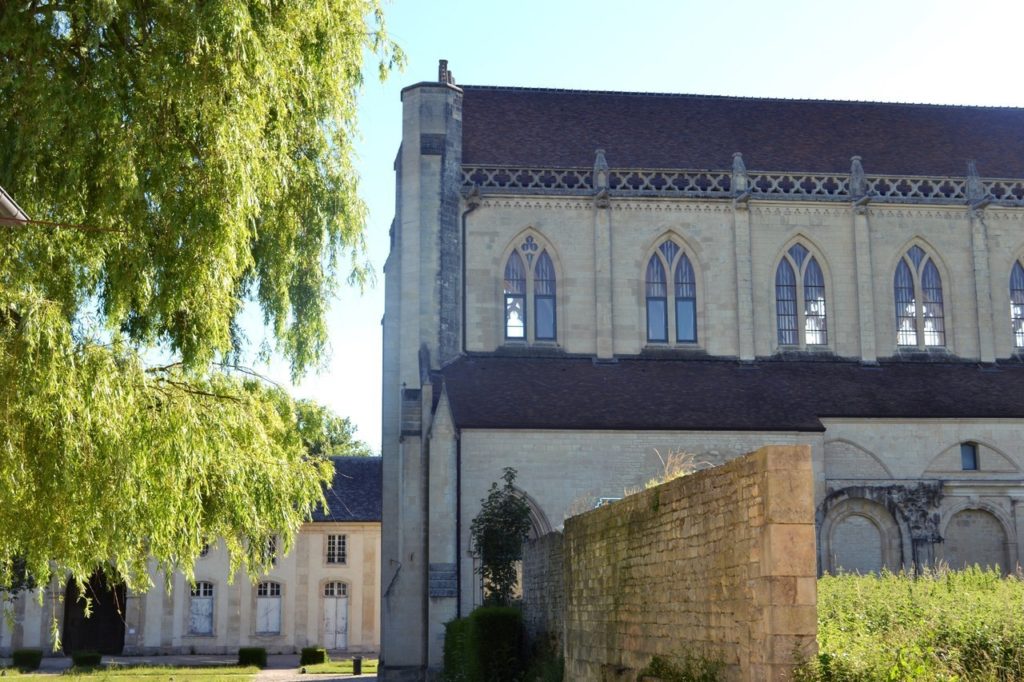 The IMEC has very rich and diverse collections. They own private papers from very famous French and Francophile intellectuals such as Foucault, Beckett, Jean Genet, Marguerite Duras, etc. They also own collections from publishing houses and organizations. Their collections can be used for many different types of research, be it intellectual history, social and cultural history, political history but also French literature. The documents in the collections are varied, from personal documents (letters, photo albums, etc.) to drafts of books or articles, manuscripts, transcription of lectures, publishing contracts, media kits, etc. Because they are private papers, the access conditions are very strict. You can only go into the reading room, situated in the beautifully restored church itself, with a pencil and a laptop and they provide you with paper. There are lockers to leave your belongings at the entrance. You cannot take photographs, and quoting from documents, especially correspondences, can be subjected to authorisations from the documents' owners. You can ask to make copies of certain documents in the reading room, for 0,30€ each.
They also have a very furnished library with a huge collection of journals and magazines which can sometimes be difficult to find elsewhere. You can consult them in the reading room or borrow books for the evening in your room if you are in residence there for a few days, when the reading room is closed (its opening hours are 9.30am to 6.30pm and 9.30am to 5pm on Friday).
When I went there, I was particularly interested in the papers of prominent writers and intellectuals of the fifties, sixties and seventies which played a crucial role in the emergence of radical sexual politics. They own documents from major figures of the postwar history of sexuality in France, such as the feminist Françoise D'Eaubonne, and the activist Guy Hocquenghem, who both participated in the creation of the Front Homosexuel d'Action Révolutionnaire (FHAR). They also own a lot of documents about intellectuals from the fifties and sixties such as Edgar Morin. These documents have given me an insight on how their writings were produced, but also an intimate dive into their personal lives. It enabled me to see ideas and writings not only as words but as inspired by actual life experiences and social interactions. My visit at the IMEC contributed to rooting my research in a social understanding of the history of ideas, rather than a purely intellectual one.
Most people who visit the IMEC stay there for a few days. Indeed, their collections are very rich and you are not allowed to photograph them, which makes note taking quite long! The abbey offers residences for researchers, providing a fully catered stay. If you have the time and funding, I really recommend staying for a few days as it allows you to experience the full intellectual retreat. It costs 50€ per day for accommodation and food. The IMEC is open from Tuesday to Friday, which is usually the period during which people stay, arriving in Caen on Tuesday morning and leaving on Friday afternoon. The private rooms are comfortable (most of them are double I think), with their own bathroom.
The abbey is an oasis of calm and silence and I ended up staying within its walls for the whole week, enjoying the studious retreat it offered. There are sometimes events and talks in the auditorium which you can also potentially attend. It feels great to walk around the gardens in the evening and enjoy the peace. And the food is a highlight of the place worth mentioning! It is fresh, local, typically French and delicious. Huge cheese platters are for instance served at every meal, with good wine, all of it included in the price of the residence. The refectory of the abbey will also be a place to meet fellow researchers from all around the world in a very warm and sometimes intellectually stimulating atmosphere. Even if you are just staying for the day, you can have lunch there for 12,50€. Because it is a privately owned archival centre, you also must unfortunately pay to access the collections: it is 15€ for a week, and 4€ per day. Doing research at the IMEC is quite different from consulting public archives and as historians, we can only regret having to pay to access information and build knowledge. However, if you get funding for archival research, you are definitely in for a treat!
Thank you very much for this, Blanche!