Each month, a postgraduate student or an early career researcher shares their experiences of using a particular archive. The overall aim of this section is to create a database of the different archives available to those working on French and Francophone studies that will be of help particularly to students just starting out in research
Ryan Lenzmeier is an MA student at North Carolina State University, working on tobacco consumption, taxation, and smuggling in Northern France in the 18th Century. Here he writes about using the Folger Shakespeare Library.
My thesis project is on eighteenth century tobacco consumption and taxation in northern France. As part of this project, I traveled to Washington D.C. for a week to conduct research at the Folger Shakespeare Library. Specifically, I wanted to trace how cultural meanings attached to tobacco consumption changed as the plant was introduced to France via England.
At first glance, this might seem counter-intuitive. Why go to a library named after a British playwright to study French tobacco? To be entirely honest, pragmatism heavily influenced the decision. I was able to couch-surf at an apartment in D.C. for free. The apartment was only two blocks away, so I did not have to repeatedly pay for public transportation. I attend North Carolina State University so transportation up to D.C. was cheap enough that it fell within my department's travel budget for graduate students. Finally, the Folger holds 260,000 printed works, 60,000 manuscripts, 90,000 artworks of various formats, and over a quarter of a million works related to theater performances. I am not sure that a more expansive archive is available to a student financially limited to archives in the United States.
Luckily, the large amount of resources made every second of my trip worth it (even if I did have to repeatedly resist the urge to spend a day perusing the 1623 First Folio). Although the collection does skew towards English history, the amount of Continental works contains enough material to interest a French scholar. In particular, a scholar of performance, theater, or art could quite easily get lost in their expansive collection. Both reading rooms are comfortable and quiet. Requests for rare materials are made through paper slips, although one can get an idea of what is held in the collection using their database HAMNET. The librarians themselves are incredibly helpful, carefully coaching me through the request system and how to handle the manuscripts that I was working with.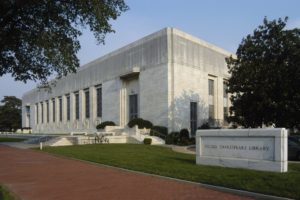 I was lucky enough to receive a grant through my department which allowed me to fly from Raleigh to Washington D.C. Although a metro stop in Dulles itself has been promised for several years, it has not yet been completed. Instead, one must take a bus from the airport to a stop on the Silver line; from there the entirety of D.C.'s metro system opens up. Be forewarned: the bus trip costs $5.00 each way in addition to metro fare. Still, that pales in comparison to the cost of a 26-mile taxi ride that I was forced to take because my arrival time was after the bus stopped making trips. Folger also offers guest houses available for out-of-town visitors that are quite cozy according to the people staying there that I met.
The Folger itself is situated in a remarkable location. The building is situated between the Library of Congress and the Supreme Court of the United States and within view of the Capitol building. As a sort of homage to the English heritage that the Folger has inherited, tea is offered every afternoon which gives researchers a chance to discuss their work and discoveries while also relax for a moment on site. D.C. itself has a thriving downtown offering a variety of culinary and social options. One evening I found a bar dedicated to the HBO show Game of Thrones, wherein I got a tiny plastic dragon with my overpriced cocktail. The variety ensures that everyone should be able to find something to their liking.
In all, I immensely enjoyed my time at the Folger Shakespeare Library. Although it might not fit every French scholar's research needs, it does merit consideration. You might be surprised by what you find!
Ryan Lenzmeier is an MA student at North Carolina State University. His thesis deals with tobacco consumption, taxation, and smuggling in Northern France in the 18th Century. In doing so, he hopes to elucidate the connections between violence, commerce, and state power in Ancien Régime France.
Thank you very much for this, Ryan!