Date & Place: Monday 3 October, at the IHR, London.
Speaker: Noelle Plack (Newman)
Paper Title: Drinking and rebelling: the problems of tax revolt, intoxication and social control in Revolutionary Paris, 1789-91
Chair: Iain Stewart (QMUL)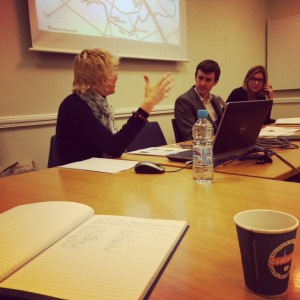 It was a real joy to welcome Noelle Plack for our first Modern French History Seminar of 2014-15, where she gave an extremely engaging paper about the effects of indirect taxes on wine in France in the late-eighteenth century. We all (more or less) know about the events of 14 July 1789, when French people stormed the Bastille. We are less familiar with the riots which were happening at the gates of the capital city on 11, 12 and 13 July. These are the riots which Noelle took great care to describe:  in a movement of protest against the indirect taxation of wine, men and women preferred to sit at the gates and drink the wine – or even break the barrels so that wine was spilling everywhere – rather than pay the tax on wine. This eruption of grass-roots frustration is part of a wider story of popular protest in late-eighteenth century France. It also helps to explain the banning of indirect taxation in May 1791. To find out more, look out for Noelle Plack's podcast, or download one version of her paper here.
As usual, we then moved on to the Birkbeck bar to continue the discussions in a more informal manner.
NB: Join us next week when Daniel Lee (Oxford) introduces his new book, along with commentary from Professor Rod Kedward (Sussex) and Professor Laura Downs (EUI)
http://www.history.ac.uk/events/seminars/136